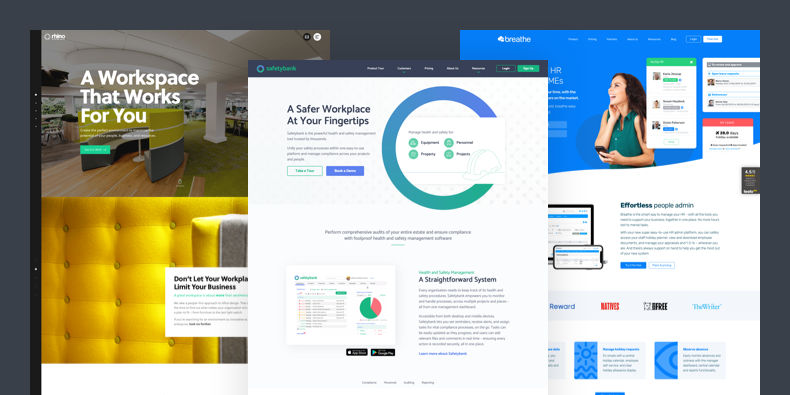 Creating an impactful website for your company can help drive leads and convert them into sales. Smart website design revolves around building a website with a focus on an effective user experience that provides buyers with a seamless journey to conversion.
A B2B website should do 3 key things to be commercially valuable:
It needs to be discoverable in search engines
The website supports the visitor in finding critical information
It converts a healthy number of visitors into leads and MQLs
We use the HubSpot CMS to create incredible B2B websites for our clients, and the sky is truly the limit when it comes to design. Our clients often have completely different requirements which demonstrates the versatility of the HubSpot CMS.
What does an effective website look like?
When the aforementioned aspects all come together, you have an effective website capable of converting visitors into qualified leads. The HubSpot CMS gives you everything you need to create websites that meet this criteria, enabling businesses to build websites in a variety of styles that fit their specific requirements. Here are just a few of our favourites.
Breathe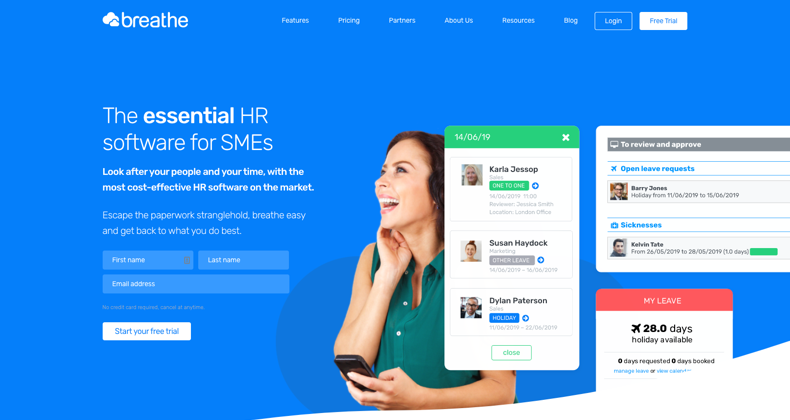 Breathe outgrew their old WordPress website. A diverse set of features meant that their original website was cluttered with confusing menus that obscured the customer journey and made it difficult to maximise the potential of their in-house content.
In 2020, we rolled out an exciting, updated, and rebranded design to a website that was already driving fantastic results and demonstrating HubSpot CMS' flexibility. Blend redesigned and developed Breathe's website with a focus on the user experience and customer journey, ensuring that more visitors could discover the relevant features and guiding them toward to offer of the free trial.
The site incorporates new, more engaging blog and landing page layouts, useful online calculators, and a rich, filterable partner directory powered by HubDB.
Read the Breathe case study to discover how we brought their new website to life.
IFIS
IFIS' website was designed to drive end-user engagement with an incredible, eye-catching design and engaging copy. The business has a forward-facing attitude, and the website was designed to reflect that – it's a bold, welcoming design, assisted by vibrant imagery throughout.
Supporting the objective of driving engagement with IFIS's community of end users, the website consistently converts at an improved rate to its predecessor, generating more leads and MQLs each month.
For more information, read the IFIS case study.
Rhino
Some people don't associate the HubSpot CMS with rich, visually electrifying websites. Yet Rhino, who offer workplace consultancy and tailored office design services, have a website that leaps off the page with bold colours and a strong art direction.
This site is one of the best examples of an incredibly visual site taking advantage of the tools available on the HubSpot CMS. The website has a focus on photography and motion, which differentiates it from a lot of B2B websites. But our main focus was on user experience and lead generation, ensuring performance is always prioritised in addition to being imagery-led.
Rhino's website is bold, and favours imagery over excessive text. But the gorgeous, fluid nature of the website is most obvious in the animations, which provide a real sense of movement throughout and help convey information in an exciting, fresh way. This emphasis on movement helps visitors navigate more easily, reflecting the agile working solutions that Rhino provide. The website also features a fantastic pillar page layout, showcasing how you can effectively display long form content with HubSpot CMS.
Loop54

Loop54 develop smart eCommerce personalisation software designed to improve conversions by delivering tailored, relevant experiences to each visitor. Their AI uses small data sets to personalise the user experience, showing visitors additional results relevant to their search. To this end, it was vital that they had an effective site of their own.
The website's creative design and fluid transitions between sections make it a joy to traverse and the abstract, geometrical shapes incorporated into the design keep it interesting to look at. It's a minimal but smart design.

In order to better support the technical concepts of Loop54's service, we created illustrations and mock eCommerce UIs to help demonstrate exactly what their product can do for the customer. For instance, the above image was used to help demonstrate how the algorithm uses data sets to determine the correct search result.
Safetybank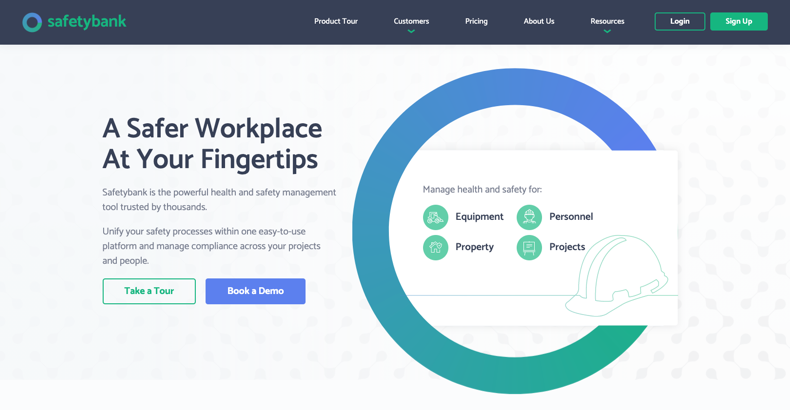 Blend were approached by Safetybank to help them deliver an effective user experience for their SaaS offering. Safetybank develop an all-in-one software solution for health and safety management across the property, construction, and business sectors.
Blend created Safetybank an all-new website, built entirely on the HubSpot CMS. The new website modernised the brand, while simultaneously improving the customer journey. One of the most important parts of transforming the Safetybank brand was ensuring they had their own identity, separate from their parent company.
Before working with us, their overall look and feel was identical to that of their parent. Blend introduced a brand new colour scheme, with blues and greens to reflect the subjects of health and safety, and helped forge Safetybank an identity of their own.
Cass Information Systems

After the successful implementation of a new website and inbound lead generation program for their Telecoms group, Cass wanted their entire website replacing from the ground up to better support their use of digital marketing to drive their growth.
Cass have a large, content-rich website, creating organisation and navigation challenges that required our designers and developers to work together on innovative solutions that support the customer experience.
The website has a modern look and feel, with a brand-new structure. The Cass website uses flexible page templates, which give each group within Cass independent control, while ensuring the website retains a consistent brand. The fact it was built on the HubSpot CMS means Cass now also has access to cutting-edge content optimisation and marketing tools.
To see how Cass' website is now a platform for growth, read the case study.
Creating a website to compete
Building a website that meets your marketing goals takes skill and strategy. But where do you start? Perform internal and external research to understand exactly what you need your website to do. Then, look at the analytics of your current website to discover what's helping you achieve that goal, and what's holding you back.
All of the websites mentioned in this blog were designed and developed by Blend on the HubSpot CMS Hub. The CMS Hub's versatility is proven - the websites don't have to look the same, and diverse functionality and customer experiences can be created with ease. HubSpot CMS Hub is a powerful platform for B2B lead generation and is improving all the time.
There are many facets to effective website design, but the most important thing to remember is that a buyer-centric design delivers the best results.