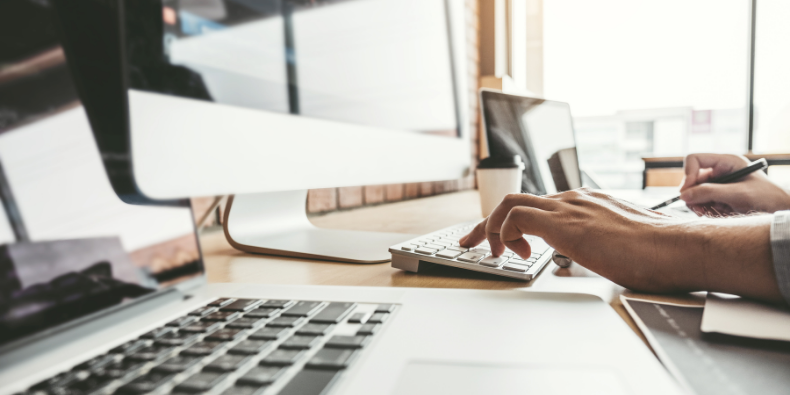 Powerful B2B website design lays the foundation for a seamless and effective customer experience. If your site is poorly designed, hard to navigate, or counter-intuitive to use, it will limit engagement with your company.
Since website design is so crucial, and yet so difficult to nail down, I spoke to Blend senior designers Clare and Alex to find out who they thought got it right in 2020.
1: Secfi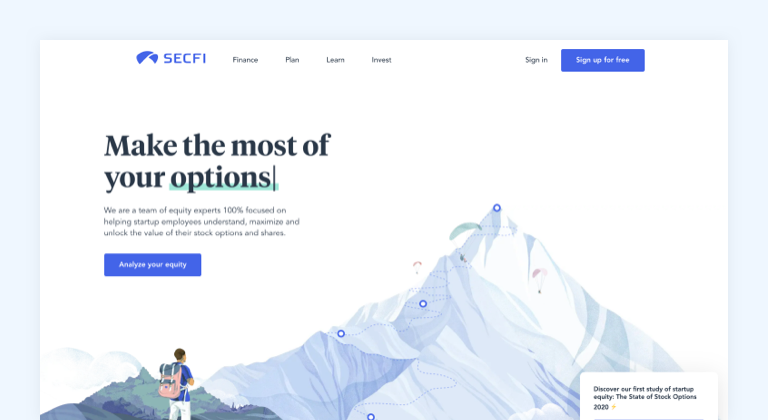 When you think of fantastic web design, equity advisors probably aren't the first business that pops into your head. Yet Secfi's website combines subtle animation and clear information to create a website that strikes the perfect balance.
The homepage features a beautiful animation with just enough movement to be interesting, without overwhelming visitors. The information on the website is laid out efficiently, infusing the visitor journey with smart animations to keep things interesting. The website is smartly illustrated with incredibly high quality throughout, working with the colour scheme to create a softer look.
While the website's overall navigation could be improved to make it easier for people to get to the information they need, Secfi understands that less is more. The icy colour scheme of blue, grey, and white makes reading a breeze, and what animations there are, are used sparingly, increasing their impact.
2: Overpass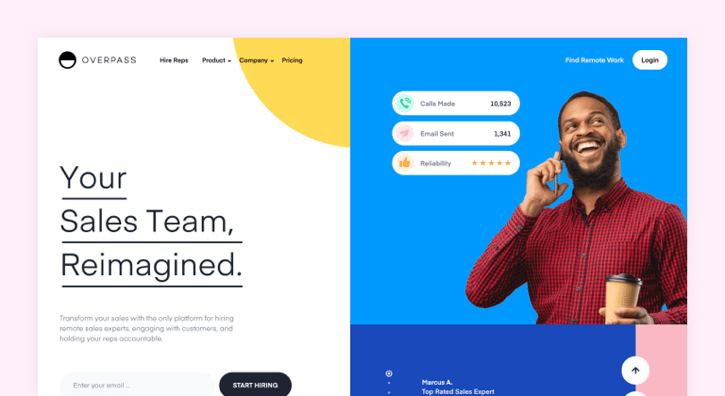 Overpass' website comes at you hard – and that's not a bad thing. Immediately eye-catching thanks to its incredible use of slick animation and motion, Overpass certainly provides visitors with an interesting experience.
Every element of the website has some form of interaction. The high budget and high amount of development time are on full display here. Despite employing some heavy colour blocking, it remains professional throughout.
A tip about colour blocking. When colour clashes with text, it can be difficult to read. This impacts a site's accessibility. Overpass' footer is an example of this in action.
Overpass has buckets of style and its striking look make it stand out an increasingly homogenous crowd. But style should be balanced with accessibility. In Overpass' case, it isn't immediately clear what they offer, demonstrating the challenge of getting such a careful balance right.
3: Zenefits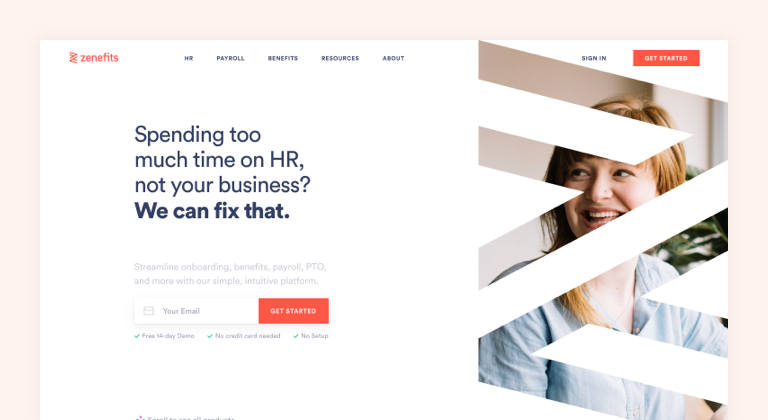 A good website should tell a story. Zenefits showcase their intuitive HR platform by doing just that. With an incredible scrolling animation that evolves as the user moves down the page, Zenefits offers a journey-led experience in a mastery of website storytelling. Zenefits' feature set and capabilities are all laid bare simply by scrolling down.
As big as the wow factor is, it's not overbearing. A reserved colour palette shows that they understand the benefit of holding back, and the range of colours used compliment each other nicely. It's a fantastic website for first-time visitors.
So much focus on the journey means it's necessary to support the page with product hubs and landing pages to make it faster and simpler for returning customers to find what they need.
Even with some kinks to iron out, like strange scaling in some places, there's no denying that Zenefits is a standout example of B2B web design. Combining that bold animation with scaled back colours and smart font design, including the whimsical annotations, Zenefits is a winner. The journey the page takes you on will stick with you long after you've left.
4: Collibra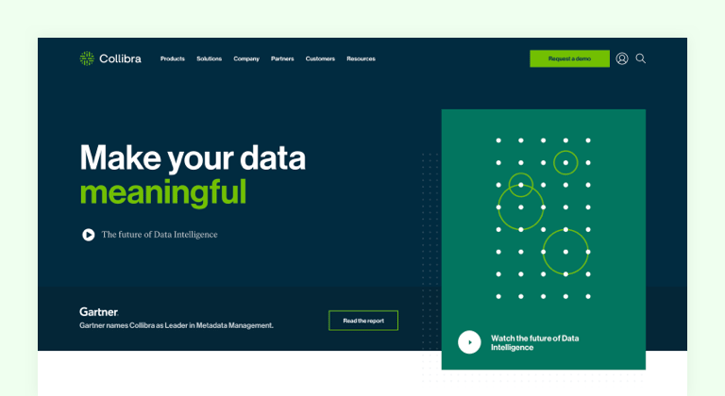 Compared to the previous two entries, Collibra might not immediately blow you away. But this website knows what it needs to do, and it knows where to put its focus – on the user experience. Thanks to pitch perfect navigation and a fantastic use of the mega menu, Collibra might be the nicest B2B website of 2020 to actually read.
Collibra's library of products deal in data, and you can get all the information you need right in the mega menu without it feeling invasive at all. The website feels visual without bombarding you with effects and movement – instead, it smartly uses graphics to illustrate concepts, again making it easy for the reader to understand what they do and how they do it.
The copy is sharp and concise, telling visitors everything they need in short, sharp bursts. But again, the mega menu is the star here. The mega menu clearly lays out the information with titles, subcopy, and icons, as well as presenting the pages with a clear hierarchy. Some pages are afforded more room than others, helping them stand out.
It acts like a smaller, compacted version of the site itself. Visitors both new and old benefit from this layout, which drives people to precisely where they want to go, whether that's a product, a partner, or a resource. Thanks to these smart decisions, Collibra is a great example of B2B web design.
5: Heavyweight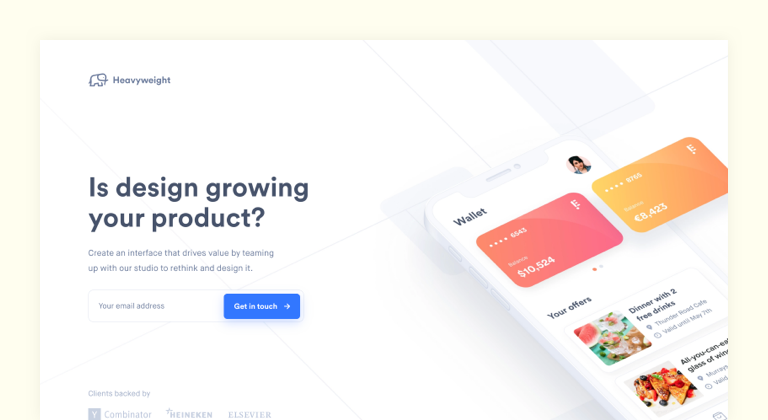 Of all the websites showcased here, Heavyweight understands the power of exercising restraint. Despite its name, it doesn't throw its weight around – instead, it masterfully takes a minimalistic approach to design. There's a lot of white space on show here, yet none of it feels like a waste. Everything the company has to show is shown on one page – that's all they need, which belies a great confidence in their ability.
The isometric angle of the images adds a layer of dynamism to the site, as though it's being viewed in multiple layers. Normally it can be difficult to showcase multiple screens and UI elements, but Heavyweight have pulled it off intelligently. The smart design helps you engage with the product, while the grey typeface helps the colourful images to pop and balance the website.
One particularly impressive aspect of the website is the level of focus employed here. Every piece of content has an element to back it up – every bullet point has an icon, every quote a face, and every CTA a bold and clear design. The website is signposted very effectively, and despite the absence of animation, is visually eye-catching.
The copy length gets a little unwieldly at points, clashing with Heavyweight's emphasis on focus, but the balance and tone are very much of a website that knows what it's doing.
What design works best for your website?
Every business is unique. So every website will need a unique design to boot. Website design is an essential part of driving traffic and generating good quality leads for your business. With the right skills and expertise, you can make yours into something special. Who knows? Maybe you'll end up on our best B2B website design list for next year.