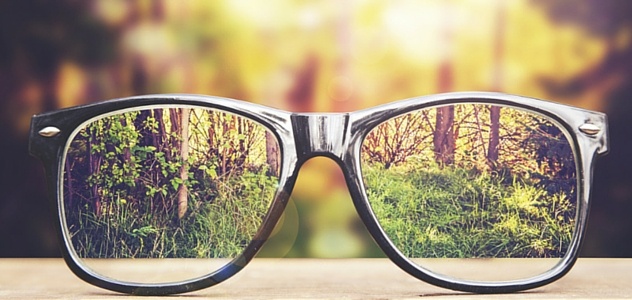 Yes: an inbound strategy will give a focus to your digital marketing efforts, making them more effective and helping you to generate leads.
"I've tried social, I've tried blogs, but nothing affects my bottom line."
It's frustrating, isn't it? You work hard producing great content, only for it to muddle along, and never really push your organisation forward into the 'promised land' of, you know, actually making more money for your business.
Digital Marketing Strategy Basics
There are two fundamental elements of any digital marketing strategy:
The Plan: using research, analysis and decision-making skills to create a framework for your marketing efforts.
The Work: using the framework to perform the marketing, and to measure results.
A lot of growing organisations, from SaaS to technology companies, put time and effort into creating a marketing strategy plan, only for it to fall to the wayside over the course of the year as operations and sales needs draw resource away from marketing. At the other extreme, smaller brands such as professional services firms might start doing marketing without creating any sort of framework for their efforts at all, and find themselves frustrated when they aren't achieving meaningful results.
Now don't get me wrong, I'm not saying that even a one-man-band organisation needs a 20-page strategy plan, far from it. The most important thing is that you or your digital marketing agency create a document that will frame your efforts, and allow you to perform your digital marketing effectively.
Digital Marketing Plan Effectiveness Matrix
For your plan to support effective performance, there is an important balance that you need to strike – the balance between flexibility and coherence.
Flexibility reflects the capacity of your strategy to adapt to opportunities and threats that arise while work on your marketing is ongoing.
Coherence reflects the level of focus it provides to your efforts.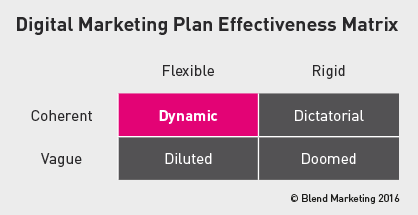 A strategy plan that is flexible but incoherent will lead to Diluted results. People working to a diluted strategy won't be effective because they will never focus on any activity as thoroughly or for long enough to achieve meaningful results for your organisations.
A plan that is coherent, but too rigid will be Dictatorial. People working to a dictatorial plan will find their creativity frustrated, and won't be able to adapt if the world changes around them. While they may achieve success, the plan could easily be derailed by a new external threat, and they won't be in a position to make the most of new opportunities that present themselves.
Can a plan be rigid but also vague? Well yes, and frankly it will be Doomed to failure as a result. If the objectives set in the plan, or the actions to be taken are set in stone, but the method that will ensure the actions match up to the results are unclear, then your marketers are doomed to disappoint themselves and your stakeholders.
A truly effective marketing plan is Dynamic - it gives coherence to the work that needs to be done while also allowing for flexibilities should opportunities or threats arise.
How Does Inbound Marketing Strategy Create Dynamic Digital Marketing Plans?
Inbound marketing is a digital marketing methodology that focuses on driving incoming enquiries and sales. Using content marketing tactics with a strong grounding in SEO best practice, it works to increase organic traffic to your website. Once people are on your site, conversion rate measurement and optimisation help you to increase the number of leads you generate. With the right marketing automation platform, you can then nurture these leads to convert more of them into customers without cold-calling anyone.
Going Inbound will give your digital marketing strategy coherence. When it's backed up with marketing automation like HubSpot, the process of executing the plan is simplified, freeing up your creative energies to be flexible when opportunities and threats appear. Ultimately, choosing an inbound strategy will ensure that your digital marketing strategy is dynamic, giving you the focus and the adaptability you need to achieve meaningful results.
If you're looking to find out more about what inbound marketing is, why not download our guide to B2B Inbound marketing?