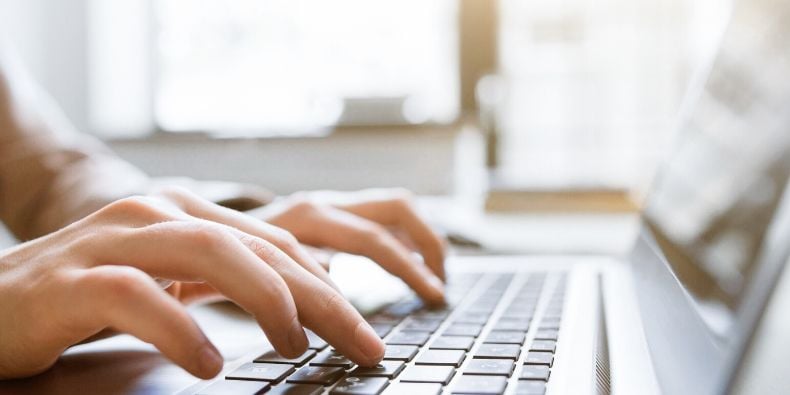 There's more to the inbound methodology than creating and sharing blog posts.
To extract maximum value from your content, it needs to drive traffic to your website and generate leads. The question you need to ask yourself is: "does this content add value to the buyer's journey?"
If the answer is "yes", great! But that's still only part of the battle. You might have written the most insightful primer the internet has ever seen, but if your content is poorly organised and connected, its contribution to your overall marketing results will be held back.
The structure of your website content, from site architecture to on-page layouts and internal linking, is a simple way to improve site traffic and lead generation.
Connect pages in a way that's logical and user-friendly
At the highest level, a well-structured website has a clean and intuitive interface. Prospective customers should be able to navigate between the homepage and your main service pages as easily as possible.
In a conventional site architecture, service pages appear at the top of your main header navigation, with relevant subcategories listed below. This allows you to communicate the purpose of your business immediately and separates your services/products into distinct categories. Consequently, prospective customers are never more than a click or two away from the information they need, increasing average time on site. Search engine crawlers will also have an easier time navigating and categorising your pages.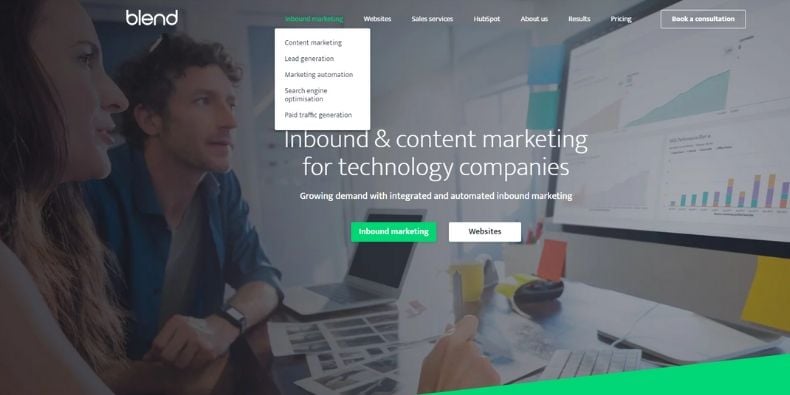 Alongside user experience, it's important to consider intent when organising your main site navigation. Pages that offer the greatest value to your customers — those that offer in-depth information on the product or service and aid in the purchasing decision — should feature prominently. Individual pieces of content, by contrast, should be excluded altogether so as not to overwhelm visitors with irrelevant information when they first visit your site. As such, signposts and contextual links within individual pages form an integral part of modern site structure.
The primary goal of these links is to direct visitors to related areas of interest elsewhere on your site. Contextual links can help guide people who need more information without distracting from your primary calls-to-action.
Blend Recommends: When setting up links, consider relevance. Linking to random articles for the sake of it will confuse the reader, who suddenly find themselves directed from an article about cloud security to one on office design. It also harms SEO. If there's no rhyme or reason to your internal links, search engines will struggle to understand your service offering.
Keywords play an integral role in the effectiveness of your links. They should be relevant to the topic at hand; this helps Google understand why you've chosen that particular phrase in the first place. Links should also be free of any unnecessary keyword stuffing to avoid falling foul of Google's algorithms, which are now sophisticated enough to pick up on such underhanded behaviour. Doing so can have a seriously detrimental effect on SEO.
By adopting an SEO-focused approach to content creation, Mantic Point enjoyed a 27-fold increase in organic web traffic
Assert authority with in-depth pillar pages
No matter how cutting-edge your offering, standing out from the crowd is a challenge.
Pillar pages can help B2B businesses demonstrate their authority and customer focus.
Unlike your service or product pages, which tend to be punchier in terms of layout, the main purpose of a pillar page is to answer specific questions your audience may have on complex or niche industry topics — topics that would be out of place in your main site navigation. They will include a level of detail that simply isn't possible in a standard blog post, complete with relevant links to provide additional value to the customer journey.
When selecting suitable topics for pillar pages, always think about what your audience wants to know. Just because you think a topic is important, it doesn't necessarily mean your readers will agree. And, at the end of the day, if they aren't interested in what you have to say, your content won't convert.
Blend Recommends: Perform comprehensive keyword research to identify the most lucrative topics (i.e. those that are of genuine interest to your visitors) and select your pillar pages accordingly.
Popular tools, such as SEMrush, offer valuable insights into the popularity of key search terms and the intent behind the people that use them. Combined with useful metrics, such as average bounce rate and total page views, you have access to the high-level data you need to refine the selection process and make sure your pillar pages are meeting a genuine need amongst your audience.
They'll spend longer on pages as a result which, in turn, improves your overall ranking.
Create compelling cluster content
To support your service and pillar pages effectively, you need to produce a consistent stream of complementary content.
Blogs usually make up the bulk of this content. While YouTube has undoubtedly changed the way we consume information and video is an effective content format, the web continues to be a primarily text-driven platform. For businesses, this makes blogs one of the most effective ways of targeting a high volume of popular industry key words at the cost of minimal time and effort. Moreover, blog posts tend to be easier to digest than whitepapers, ebooks, and guides.
This content should address specific niches within the wider topic covered by your pillar page. For example, a pillar page on cyber security might be supported by blog posts on hacker prevention or the best tools for removing malware. However, supporting content should be distinct from an SEO perspective to avoid 'keyword cannibalisation'.
It's also a good idea to optimise or repurpose existing content. For example, though an article published in 2015 may no longer be entirely relevant to your audience, there's a good chance it'll contain a handful of valuable insights, nonetheless. And it goes without saying that refreshing this content is more efficient and cost-effective than starting from scratch.
Aside from blogs, other forms of content you might consider leveraging to increase traffic and lead generation include:
Whitepapers
ebooks
Guides
Case studies
Videos
Webinars
Podcasts
Much like pillar pages, this type of content is ideal for demonstrating your industry expertise.
Some of this content, particularly ebooks and whitepapers, will be gated. By asking potential customers to complete a simple registration form to access your high-value content, capturing and segmenting leads becomes that much easier. That extends beyond nurturing relationships with those who have shown an interest in your content, but also using the information they provide (job role, industry, geographical location) to gain a deeper understanding of your buyer personas. Either way, this allows you to focus your efforts on those who are most likely to convert into paying customers.
To promote gated content effectively, you'll want to create landing pages. These should provide a succinct overview of the information contained within, to entice prospective customers, and house the download form itself.
Finally, just like your main service pages, contextual links should be used wherever possible. We've already seen how this helps guide visitors towards useful supplementary, but it also has various uses from an SEO standpoint. For example, contextual links help Google understand the purpose of your content, making it more likely to appear on the first page for related queries.
The result of these efforts is an impressive catalogue of high-value content. Linked correctly, you'll see a boost in organic traffic, demonstrate your expertise, and provide potential customers with a clear and intuitive path through your website.
Design for success
Last but by no means least, the physical appearance and structure of your content can have a significant impact on both the volume of traffic and lead quality.
In a blog post published in 2012, HubSpot pointed to the fact that the human brain processes images 60,000 times faster than plain text. What that means for content marketers is that pages with eye-catching hero images are the most effective.
Top
These basic principles translate to the structure of the text itself. A strong headline should always lie directly above or immediately below your hero image; something unique and compelling that encourages the visitor to read further. This should be followed by a snappy introduction that offers a succinct overview of the forthcoming discussion, but saves the best bits for later. Write in a way that entices the reader to read more.
Middle
The body copy should be divided into smaller, more manageable chunks, via applicable sub-headers and visual aids. Bullet lists, infographics, and blockquotes, are extremely effective at highlighting salient points within the text.
Crucial as visual aids are to a web page, be careful not to clutter your articles with superfluous images and graphics. Doing so actually has a detrimental effect on page loading times which can reduce conversion rates by as much as 7% — even if the delay is no more than a single second.
Bottom
To bookend your content, you'll want to include a well-designed call-to-action (CTA). These are clear signposts at the bottom of an article that direct readers to the next point on their journey down the sales funnel. This could be to another piece of content or a conversion point. The important thing is they're relevant to the topic at hand and aren't too invasive.
A modern website redesign increased event organiser Penguins' overall conversion rate by 500%
Extract maximum value from your website content
Quite simply, the structure of your website content is crucial. Designing an intuitive site architecture that gently nudges prospective customers towards the information they need most is only the first step. To increase traffic and generate qualified leads, you need to produce a regular stream of insightful content.
Written with human beings in mind (not a computer algorithm) it's equally important that everything from your pillar pages to whitepapers, ebooks, and even individual blogs are presented in the most engaging, visually appealing way possible.