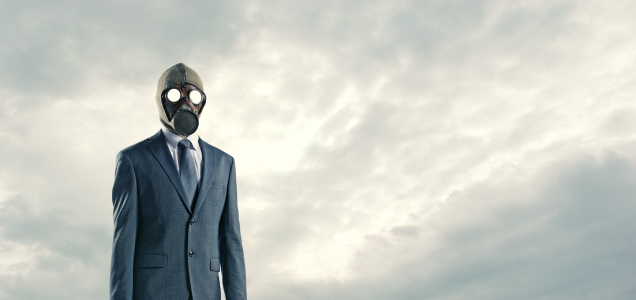 Does the end of Google Authorship profile pictures in search results mean the end of Authorship, the end of Google+ or just the end of marketers gaming the system?
UPDATE: On 28 Aug 2014 Google announced the complete withdrawl of Authorship data from search results and the obsolescence, from their point of view, of the Author tag. So, this really is the post-Authorship apocalypse. Google+ results will still be seen in search but author names are gone.
When Google's John Mueller announced on 25 June 2014 that "Google had been working hard to clean up the visual design of our search results" we don't think anyone expected that the solution they worked so hard to find would be the removal of profile pictures from results with Authorship.
Reactions to the announcement came thick, fast and, mostly, were incredulous.
Speculation continues unbridled about the real motives behind the decision - are they protecting AdWords revenue, phasing out G+ or genuinely trying to improve the service they provide? But, more importantly, what does it mean for marketers?
Widespread disbelief
Whatever their real reasons for removing profile pics, the thing that unites most spectators in disbelief is Mueller's statement that "experiments indicate that click-through behaviour on this new less-cluttered design is similar to the previous one."
Two things about that statement jar with us.
First off it's the reference to the new 'less-cluttered' design. We can't remember seeing any real discussion, let alone criticism, about Google's SERPs becoming too cluttered. Even a fresh search today only brings up references to the number and size of adverts and other non-organic search elements degrading the search experience. So who exactly were Google listening to when they heard that results needed a 'clean-up'?
Then there is the reference to the click-through rate. This is the biggy for marketers.
Back when Authorship was first announced, it seemed pretty obvious that the net result of implementation should be increased click-through rate. And it was. So for Google to now say that the removal of profile pictures from search will not adversely affect CTR, well that's pretty hard to swallow.
Tons of people have studied how the inclusion of profile pictures influenced search. Some used eye tracking to show how the pictures drew the attention of searchers. Google themselves promoted the benefits in terms of trust and credibility. Others looked at the massive increase in CTR that many users saw. And others still looked at the impact of optimising the picture that was used.
Perhaps all these investigations and their findings point to reasons why Google is right to remove the profile pictures?
Maybe this is a good thing?
Let's face it, Google Authorship was never really straight-forward to set-up - practically requiring a computer science degree. The majority of the take-up therefore will have been among marketing professionals, web developers and those who have access to them.
Meanwhile, Google's stated objective with search is to provide relevant, quality and genuine content in the results. But the ability to create relevant, valuable and quality content is no way confined to those with the skills to configure Authorship correctly.
Hence the impact of Authorship was to give an unfair advantage to the marketers.
Whether or not Google created Authorship to push Google+ and/or removed it to protect advertising revenue, by removing the profile photos they may have levelled the playing field and prevented marketers from effectively gaming the system.
However, that doesn't make it any less annoying.
What now? Abandon Authorship or even Google+?
Not so fast. True, the profile pictures have already disappeared from organic search results. Author names still appear however, so there is a reason to keep your Authorship settings in place. Although, looking at the following example, not a particularly compelling reason. Here you see search results for the term 'Inbound vs outbound marketing'. The first result is one without Authorship. The second is ours, with Authorship. Not much difference is there?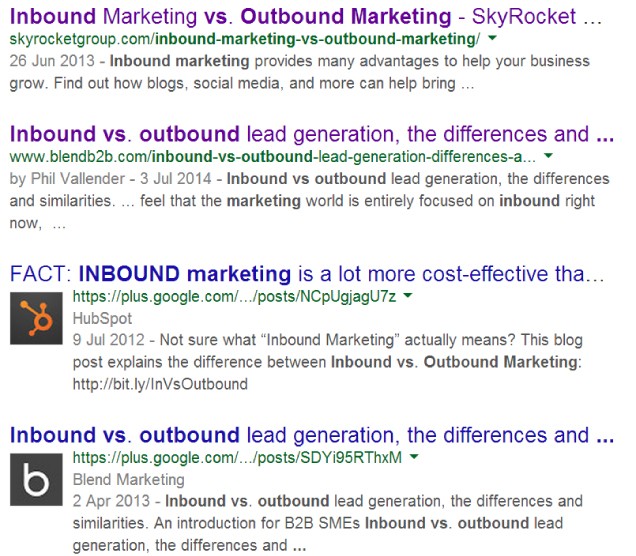 Look at the same image again however and you see what we have been seeing for a while now - Google+ posts from people and companies in our circles appearing at the bottom of first page search results. Here your Google+ profile picture still shows. These results are now very prominent compared to the other organic results so we will be watching to see if these attract an increased click-through rate.
Next steps
If you had Authorship set up, keep it up. If not, we don't see how the appearance of author names alone in search is compelling enough a reason to do it. So wait and watch this space.
Google+ on the other hand currently seems to remain an influencer in search, so maintain your profiles and keep your content there fresh.