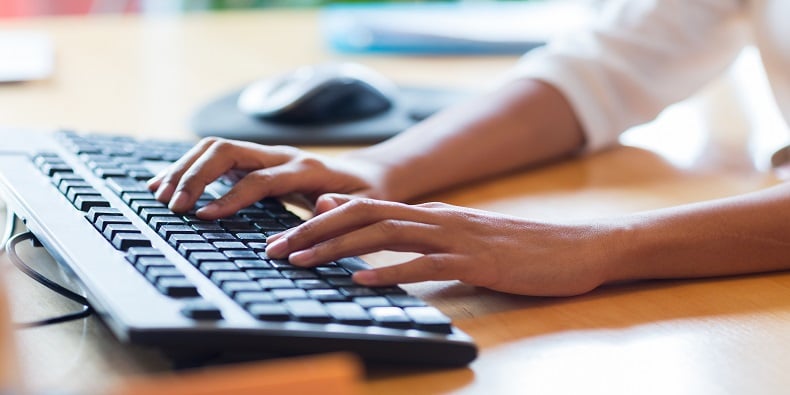 Fostering great relationships with your customers is the keystone of any successful venture. Understanding how best to manage those relationships is crucial. That's where good customer relationship management software (CRM) comes in – when your business is growing, a CRM can help you to steer the ship.
CRM is one of the fastest-growing software markets in the world. Despite this, 18% of salespeople don't know what a CRM is. Not only that, but 40% of salespeople are still using platforms like Microsoft Excel to manage customer data and leads. This method is cumbersome, antiquated, and risky. A CRM helps you make the best use of that important customer data by helping you to organise it in a way that's accessible at all times, making the data valuable to your company.
Your business gathers data all the time. A CRM offers you a single place to store and manage that ever-growing trove of customer information. Perhaps more importantly, it gives you immediate access to it. This allows you to keep up with your prospects and engage with them in a bespoke, personalised fashion.
A personalised customer experience increases the chance of conversion, so if you're not using a CRM, now is the time to do so. But we understand that choosing a CRM can be challenging. This article explores how a CRM is beneficial for your business and provides insight into how you should choose yours – and which we believe to be the most advantageous overall.
For those that don't know…
If you're part of the 18% not in the loop, what is a CRM?
Your CRM acts a central hub for your customer data. It provides your team with quick answers to questions about them, including:
Who they are
How engaged are they
How they have interacted with your business
Their purchase history
Utilising a CRM is all part of providing your customers with the best experience possible.
81% of customers want brands to get to know them and understand when to approach them and when not to. A CRM can help you provide that personalised experience by identifying the perfect time to invite them to the next stage of their customer journey.
Build bridges within your business
One of the biggest mistakes companies run into is being unable to properly identify why they need one. The reality is a CRM can help businesses grow and sell more effectively. They can reduce errors and improve service by consolidating customer data and making it incredibly accessible across a business.
If your company is experiencing any kind of growth, a CRM is crucial for keeping everything together. It removes the need for spreadsheets, which can be troublesome to update and keep track of. It also keeps valuable customer data in a single place – so everyone has easy access. For start-ups and new businesses, using a CRM can provide a boost in the early days, including a +25% increase in marketing ROI. This means turning more leads into sales.
Meanwhile, client communication remains consistent across your sales team. Everyone in your sales team can see who said what to which customer. The transparency and accessibility offered by a CRM helps everyone stay on the same page.
How to choose a CRM – what's in it for you?
Every business needs a CRM, but a CRM alone doesn't add value to your customer. There are a lot of CRM options to choose from and each one can help your business differently. When deciding on your CRM of choice, there are several factors to consider.
What you'll want out of a CRM is dependent on the kind of business you are. Are you a small business? Product vs service? How easily do you think you can integrate it into your current situation? It's crucial to check your chosen solution is right for you.
It's important to compare CRM features with your business requirements. Some CRMs can offer incredibly useful features, including lead management, sales, and marketing and enable you to nurture your prospects through the entirety of their journey, from the initial contact to the close of sale. Effective lead management lets you engage with customers through follow-up emails, social media, and more.
Ease of use should also be considered when choosing a CRM. By neglecting to see how accessible the system is, businesses find themselves with a CRM that their internal team members can't operate. Integration is another key area to remember. What systems will your platform need to integrate with and how do you ensure a successful, single customer view? When selecting a CRM, understanding how it works with your pre-existing software will be vital to moving forward.
Larger businesses may find the customisation aspect of a CRM solution important - the more customisation options available to you, the more flexible your CRM is. Customisation allows your CRM to grow with your business and adapt to the changes that you need it to. The flexibility of the software indicates how well it will keep up with your organisation, as well as how simple the process of integration deployment will be.
These features and more should all be instrumental in deciding which CRM is best for your business. There are lots of CRMs on the market today. Ultimately the decision will be yours to make, and while it's possible to weigh up the individual advantages and disadvantages of each, here's why we stand by HubSpot.
Why we chose HubSpot
Some CRMs present barriers to entry, whether that's per seat or contact-based costs, or inherent technical complexity. HubSpot CRM is free to use and designed with the user in mind. After all, more complexity doesn't always mean a better CRM.
A feature-rich CRM
The CRM offers a myriad of tools including:
A document tracking tool, which enables a business to build a library of sales content for their team.
A meeting scheduling tool.
A lead management tool to help you view customer data and close more sales.
A pipeline management tool that ensures no potential customer is overlooked by analysing sales processes and identifying the weak points within them.
Improved processes
HubSpot's free CRM has the functionality to improve processes within your business. The CRM prioritises productivity enhancements - for example, automatic company creation and data population - that help to speed up your processes. This enables your team to operate smoothly and provide a fantastic experience for the customer.
Extendability
As your marketing budget expands to include advanced email marketing and lead generation campaigns, HubSpot has features to help. It also manages large amounts of customer information easily. It enriches your data for you including industry, turnover, location and website, and pulls that information straight into simple, digestible dashboards.
Single customer view
If you're also using HubSpot for marketing and service, you can also benefit from the seamless experience that comes from a single, shared database. HubSpot gives you a single view of the customer and one database means your information is always correct, available in one place and up to date. HubSpot's interface is easy to navigate and includes a task dashboard, contact and lead management, sales pipeline management and more, all for free.
Training and development
The HubSpot Academy provides users with comprehensive learning material and certifications. This gives users access to a wealth of free education in the form of highly credited courses. HubSpot provides in-depth training on marketing, services, and sales with a range of topics for each sector.
Our recommended courses
The HubSpot Academy is a hive of interesting, relevant knowledge and you should dedicate time to the certifications on offer. We've selected just a few of the courses to begin with:
A new kind of customer service
CRMs have become much more than a way to store customer contact information – they're now an essential tool for your business.
47% of polled CRM users said that their CRM had a significant impact on customer retention and customer satisfaction. That's why it's crucial you select the right system for your business. Our experience tells us that HubSpot CRM is a great, if not the best, way to go. Supporting buyers at every step of the buyer's journey is crucial to eventually converting that prospect into a lead.
Choosing a CRM can be hard. There are many barriers making it difficult to choose which is best for your business – confusing terminology and jargon regarding features, different vendors offering different pricing options and just an overwhelming amount of information being given to potential customers.
At Blend, we're advocates of HubSpot and its incredible potential for helping businesses grow. We couldn't recommend it highly enough.