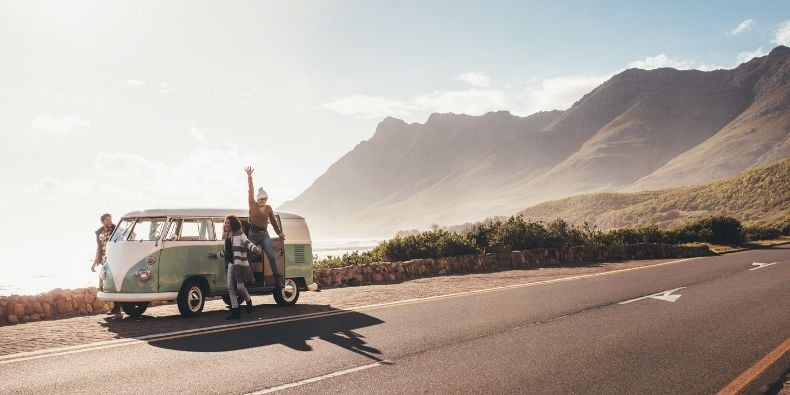 The advent of the internet has made it easier than ever for marketers to engage with their customers. These days, attracting and retaining customers is no longer dependent on the purity of the individual salesperson's silver tongue. Rather, its about building trust — demonstrating expertise through reliable, insightful, and helpful content.
Learning how to correctly leverage that content for maximum impact, however, requires an in-depth knowledge of your target audience. Consequently, understanding the concept of 'the buyer's journey' is key.
What is the buyer's journey?
Broadly speaking, the buyer's journey describes the type of research people conduct and the resources they use to make an informed decision before making any purchase.
The buyer's journey is split into three stages: awareness, consideration, and decision. And, while there's certainly some overlap between them, they're in fact three distinct phases in an ongoing process.
Awareness
The first stage describes the point at which the buyer realises they have a problem. It's here they asign a name to it and start conducting preliminary research into the ways they might go about solving it.
This might include performing a basic Google search to identify the possible solutions best suited to meet their individual needs.
Consideration
Having defined their problem and begun investigating potential solutions, the next stage is consideration.
The focus here is to conduct a more detailed examination of the solutions identified in the awareness stage (via a variety of informative content and other online resources) and the methods those in a similar position in the past have employed to solve the problem. Essentially, the consideration stage is all about cutting through the noise and getting to the heart of the matter — narrowing down their list of options until only those that address the problem directly remain.
Decision
As far as the content marketer is concerned, this is the most important stage in the buyer's journey. It's here that, after completing the necessary research and identifying the most effective method for solving their problem, the customer is ready to make a considered decision.
There might be little to separate individual vendors at this stage in terms of product or service offering. Thankfully, as with every stage of the buyer's journey, there are certain forms of content that can really help your organisation stand out from the crowd.
Producing relevant, engaging, and insightful content
Once you understand how your buyer's think and operate, the most crucial step for the B2B marketer is producing relevant, insightful, and engaging content tailored to each specific stage in the buyer's journey.
Naturally, quality and consistency are far more important than quantity. Rather than reeling off article after article on a range of subjects with no apparent rhyme or reason, the best marketers create content that supplies prospective customers with useful information at every stage of the buyer's journey. It's why 88% of them create original content in their marketing strategy.
At the awareness stage, the type of content that's going to be most beneficial to the buyer is that which focuses on helping them better understand their problem. This will include things like blog posts and social content that provide a general overview of the issue at hand.
That's not to say they should skirt over the salient points or omit critical information. Rather, they're jumping off points that lead the customer gently into the next stage of their journey (consideration) via links to more solutions-oriented content. These being white papers, deep dives, infographics, webinars and anything else that explores the individual components of the larger problem — anything that conclusively proves your industry expertise.
This is especially useful if the buyer must justify their investment to others. Having a backlog of content that effectively demonstrates the benefits unique to your product or service offering over your competitors can be the difference between securing closing and losing a new deal.
Consequently, come the decision stage of the journey, the buyer should have developed a comprehensive understanding of the problem and identified the handful of companies that may be able to assist them in solving it.
Brand-focused content – along with things like free trials, interactive demos, testimonials, and case studies – are particularly advantageous here. Not only does it create confidence in your company, it helps potential customers decide whether you're a suitable fit.
Why this is useful to B2B marketers
The buyer's journey, when leveraged correctly, can be of tangible benefit to any organisation.
By combining your buyer personas with your buyer's journey, you can create a comprehensive content strategy that enables you to focus on the most desirable aspects of your product or service. This, in turn, makes the decision-making process that much smoother for potential customers.
Statistics published by HubSpot, meanwhile, suggest targeted content increases average response rates by up to ten times compared to traditional email marketing strategies, for example. It's easy to see why this might be the case: no one likes to be inundated with irrelevant messages. Regardless, this has obvious benefits when it comes to generating new leads and engaging with existing customers.
Finally, a positive user experience is key to driving traffic through word of mouth. After all, existing customers are far more likely to recommend you to a friend or colleague who's experiencing similar problems if they have positive, first-hand knowledge to draw upon.
One size doesn't fit all
It's important to remember that the buyer's journey in your industry might differ considerably from that in another.
Factors such as price, demographic, and business model can have a profound effect on the length of time it takes the average buyer to move through the various stages of the buyer's journey. Someone in the market for a 4K TV, for example, isn't going to have the same experience when it comes to the buyer's journey as an enterprise looking for ways to improve health and safety management across their entire organisation.
For these reasons, it pays to conduct extensive research into the buyer's journey from the point of view of your customers, before implementing any kind of content strategy.