Supported by a long-term content marketing strategy, we helped Safran Software Solutions demonstrate their market authority, reach a wider audience, and generate valuable MQLs for the sales team. As a result, Safran saw impressive growth in organic traffic, event registrations, and overall sessions to their website.
Safran is a world-leading project control and risk management software provider that aids businesses in successfully planning and executing complex projects. Established in 1997, Safran has assisted companies across the globe in a variety of industries, including engineering, construction, aerospace, and defence.
Safran's range of software has consistently evolved to meet changing industry needs, supported by an expert in-house team of risk analysis and project management professionals.
Helping Safran reach a wider audience
In 2016, Safran set out with the goal of creating an inbound lead generation programme to support sales and growth plans in the UK and Northern Europe.
At the time, Safran were struggling to attract leads to their website. Their blog was performing poorly due to lack of consistent, optimised content. And this was contributing to low organic traffic and minimal new sessions.
Safran needed to reach prospects and illustrate how their software could solve common pain points. But, with a market as niche and complex as risk management, Safran first needed to establish trust and build rapport with new and old customers alike. This required valuable content that demonstrated brand authority, increased engagement, and marketed their products to a wider audience.
We weren't growing as quickly as we felt we could, and this constraint was largely due to lack of market awareness. We approached Blend to assist us in getting our brand and software out in front of prospects to generate more leads, as part of an ongoing inbound marketing campaign.

– Richard Wood, CEO, Safran
Laying the groundwork for future success
Working closely with the team at Safran, Blend created a content marketing strategy built upon the fundamentals of the inbound methodology and implemented with the help of the Hubspot Marketing Hub.
We began by developing buyer personas to better understand the kind of customers Safran wanted to attract. Once we had identified our target audience, we took a deep-dive into Safran's product suite, exploring new features and uncovering common queries, that would help drive SEO and provide relevant attractive keywords for future content.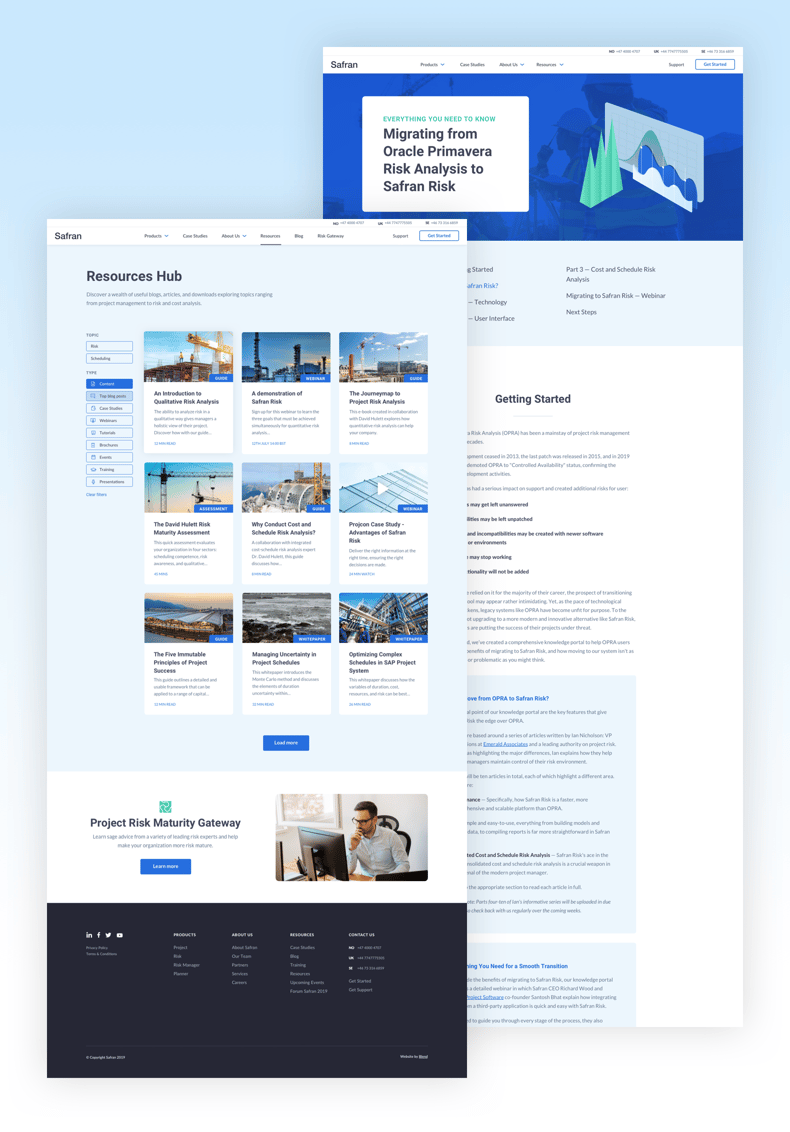 With the help of Safran's CEO and VP of Sales, we crafted an ebook and blogging strategy. The goal was to showcase expertise with a focus on attracting and retaining a brand new audience over time. The ebooks were later repurposed into interactive webinars, to provide further engagement for returning prospects that had previously downloaded content.
This was implemented alongside Safran's own weekly educational webinars for prospective clients and supported by regular blogging to fill in knowledge gaps. With those pieces in place we had a full-funnel marketing process that maintained engagement, no matter where along the buyer journey the customer was.
Blend helped us refresh our website and create impactful content to attract and delight prospects. They then applied their Hubspot expertise to produce a series of inbound programmes to provide ongoing value for our customers.

– Richard Wood, CEO, Safran
Long-lasting results
Over four years, we have collaborated and evolved an ongoing lead generation programme that provides valuable leads for the sales team. And these lead numbers continue to increase year-on-year. Today, risk experts consider Safran a trustworthy, industry leader in their field.
Thanks to our inbound strategy, the number of monthly website sessions saw huge growth. Organic sessions grew from 700 to 9,000 per month today, an increase of 1185%. Alongside this, conversion rate also improved significantly from 1% to 2.3% in the first year of our partnership, providing valuable leads and boosting sales.
This organic conversion rate has stayed between 1-2% consistently over the past four years, alongside huge jumps in engagement, indicative of the strong long-term value customers see in Safran.
Our content marketing strategy solidified Safran's position as a thought-leader in risk management and project control. And we continue to see improvements across the board. Digital event registrations have benefited from a 295% year-on-year increase, with digital attendance improving by a staggering 660% from last year alone.
Blend continue to provide us with an excellent and first class service. They have an intricate understanding of the world of inbound marketing and continue to manage our website and content with complete confidence. – Richard Wood, CEO, Safran
The impact
Safran always had world-class risk knowledge and project management expertise. Thanks to our support, they now leverage that in-house knowledge more strategically, with a commercial focus. The success gained from our strategy supported the expansion of their sales team to 3 times its original size, enabling them to extend their reach into other markets like the US and Australia.
Our strategy set out to drive more leads, boost engagement, and establish long-term trust, in a complex market area. Together we succeeded, attracting a larger audience and continuing to educate them with content both pre and post-sales. We've seen many customers become evangelists for the brand, running their webinars showcasing Safran's tools and further promoting Safran as the leading voice in project control and risk management.
The result of our partnership:
Grew from 700 sessions per month to 9000 per month
Organic traffic grew from 1% converting to 2.3% in the first year
Consistent 1-2% conversion rate over the past four years
Event registrations saw a 295% increase year-on-year
Blend continues to support Safran in their marketing efforts, creating content and generating valuable leads for the sales team.