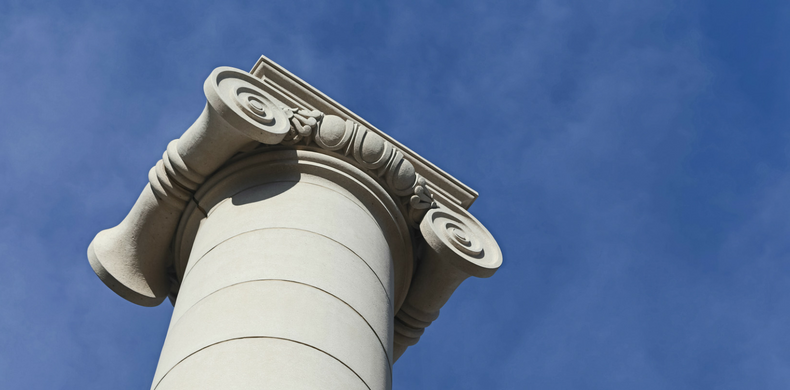 A pillar page is a comprehensive page on your website, optimised to rank for a specific, attractive keyword with a high search volume.
The world of SEO is constantly changing. While these advances give users better results, leading to an increase in rankings for many B2B companies, they have also made SEO staples like keyword research and rank tracking harder and less accurate.
Pillar pages ensure consistent B2B SEO gains amidst these changes. They are designed to ensure that you gain maximum SEO benefit from the content you produce, by making sure that your pillar pages gain authority for specific topics and rank highly for lots of related search queries.
The 4 elements of a good B2B pillar page
1. Comprehensive content
An effective pillar page is longer and more comprehensive than an average website page or blog post.
Although content does not *have* to be long to rank for competitive keywords, multiple studies have shown that longer content is more likely to appear on the first page of search results.
A 2012 study by SerpIQ (sadly no longer available online, but reported many times over by others such as here and here) looked at 20,000 search results and identified that the average length of the top 10 results was more than 2,000 words.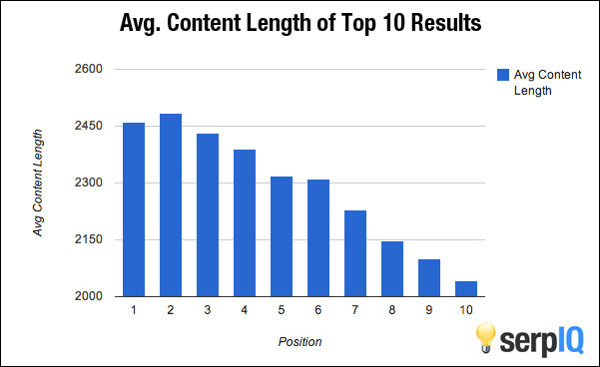 Given that the aim of a pillar page is to rank well for a competitive head term, it's better to lean toward the longer side and give it a greater chance of success.
In addition, longer content tends to receive more social sharing and backlinks, meaning, once again, longer content has a better chance of ranking more highly for competitive terms over time.
2. Keyword research and search engine optimisation
The goal of every pillar page is to rank well for a competitive topic.
Choosing this topic requires careful keyword research. There is little point in creating pillar pages that target topics that are of little relevance to what you offer. Avoid creating pillar pages that compete directly with your main website pages - treat those as pillar pages in their own right.
The right topic for a pillar page is one step removed from a page that you would naturally put on your main navigation or customer journey. A closely associated topic with attractive monthly search volume that doesn't directly reference your products or services.
Once topics are selected and pillar pages created, don't overlook basic SEO best practices.
The depth and breadth of long-form content, plus the number of internal and external links in the piece, are all positive ranking factors - but all will be wasted without sound on-page SEO.
You need to optimise your meta title, meta description, title tags, and image alt tags for your target keyword, just as you would with any other page.
3. Consistent internal linking
While the creation of a keyword-optimised pillar page is a positive step forward in its own right, the magic really happens when you place it at the heart of a 'topic cluster' through consistent internal linking.
By taking the existing, or creating new, supporting content on your website (usually blog posts) and linking it to your pillar page using the same keyword phrase that it's optimised for, you can improve its authority in the eyes of Google's algorithm.
Research conducted for HubSpot by Anum Hussain and Cambria Davies found that the more related pieces of content you can link to your pillar page, the higher your page can rank for search terms across the associated topic. This leads to more impressions and more traffic, as shown below.
Source: HubSpot
4. User experience optimisation
As we mentioned earlier, pillar pages should be long and comprehensive, describing many aspects of a broad topic.
With pillar pages, it's good practice to go beyond the structure of a standard blog post and provide readers with more assistance for navigating and consuming the content.
Internal anchor links (jump links) and indexes are a good and simple way to start. Internal navigation, either in the form of a sidebar or sticky navigation menu, is even better.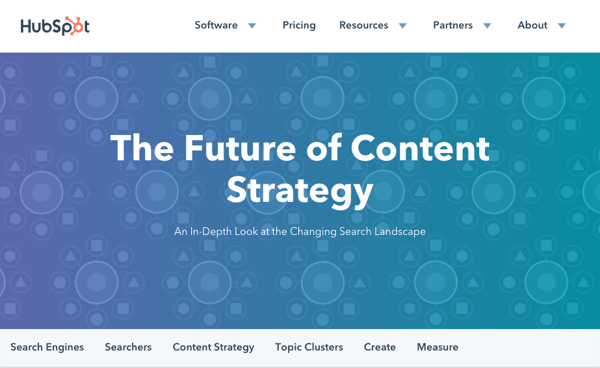 Example pillar page navigation - HubSpot
We would recommend offering the content for optional download so that your visitors can save and read it later. You can also gate this option, just like you would an ebook or other lead magnet, bolstering your lead generation capability.
For a full run-down of the user experience optimisation of a successful pillar page, read Anatomy of an effective pillar page.
Pillar pages, three ways
There are three types of pillar pages to consider:
1. Topic pillar pages
For keywords that are one step removed from the ones that warrant their own page on your main website, this classic pillar page approach is ideal.
A topic pillar page needs to be well researched, comprehensive and valuable.
By optimising for terms that are closely related to, but don't directly describe your offering, pillar pages can let you extract valuable organic search traffic without confusing website visitors about your offering.
Again, it is essential that your pillar page topics appear frequently, yet naturally, throughout your other content, affording you the opportunity to set up consistent internal links between them.
2. Ungated ebook
A potentially quick way to create a pillar page on a longer-tail topic is to un-gate an ebook that you already have on the subject.
By un-gating the contents of an ebook, you can instantly have the comprehensive content that pillar pages call for. Furthermore, all the content that was once hidden from Google in a PDF document can now be crawled and indexed, improving your SEO.
You should still give readers the option to download your ebook - this way you can continue to enjoy lead generation from it while also serving buyers who may be less inclined to submit forms.
Although your ebooks might need some tweaking to work as pillar pages, at least most of the writing is already done.
3. Navigation pillar page
You should think of all the website pages that talk about your products or services as pillar pages.
Optimise these pages for the terms that buyers use to describe what you offer. You should also repeat this terminology throughout your blog posts and other content, and link to your navigation pillar pages.
Website pages that describe your offering should lean towards being longer and more comprehensive, effectively answering as many questions for your buyer as possible - within reason.
We wouldn't recommend going quite as long as the topic pillar page in this situation. But as these pages are close to your homepage hierarchically, and probably have incoming links from every page in the main navigation, they already have a good chance of ranking when supported with internal linking.
Improving your B2B SEO
Pillar pages that target a specific keyword related to your offering, have comprehensive information on a topic, and link to other pages on your webpage, will help you create broader search engine authority and drive more organic traffic to your website.