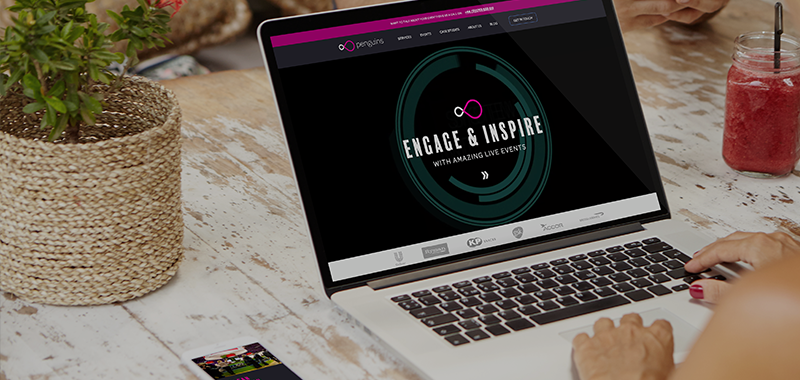 Penguins is already a leader in the event management and production space. The market is crowded with droves of competitors both new and established, all vying to gain market share from the industry's best. Staying ahead in such a competitive market is a constant battle, increasingly waged online.
Penguins' Marketing Manager Anthony Kelly knew that the company could improve SEO and recognised the huge untapped potential to turn an attractive but ineffective website into a strong lead generation channel.
Anthony tested his ideas by performing keyword research to identify the biggest opportunities and then updating the content and meta data on key website pages and blog posts. The result was an almost instant improvement in search engine rankings, increased organic traffic and a rise in the number of opportunities originating online.
These early results were just the tip of the iceberg, delivering the validation he needed to pursue a more ambitious project, to build an entirely new website around the huge opportunity that SEO, conversion optimisation and inbound lead generation presented.
The tech-savvy events company sought a tech-savvy HubSpot Partner Agency to help realise Anthony's vision for the business' online presence.
The Solution
Working closely with the Penguins team, we designed and developed a website that combined the energy and creativity of their events with the user experience and conversion optimisation that Blend is known for.
Built entirely on the HubSpot COS, the website features search engine optimised structure and content, alongside Blend's best practice for creating lead generating websites.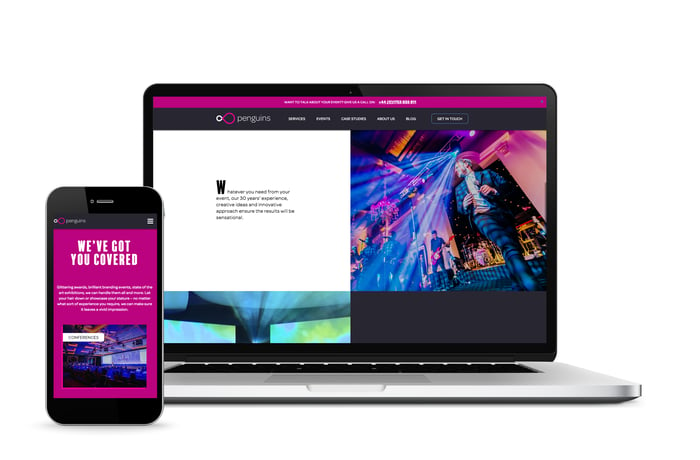 Our content team crafted every page to ensure that they answered visitors' questions quickly and concisely, while building trust with the reader and anticipation for the type of results that Penguins can achieve. The message that Penguins can be trusted whenever you need to engage and inspire an audience is reinforced throughout the site.
Pictures speak a thousand words and so the website is packed with inspiring images of the amazing events and experience that Penguins has organised.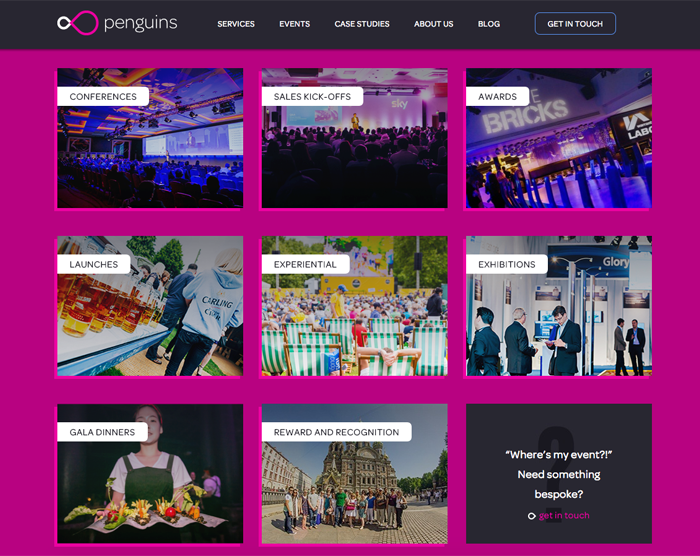 Blog posts and case studies, both built using HubSpot's blogging tools, have been search engine optimised to ensure they support the ranking of main pages and the generation of high quality traffic.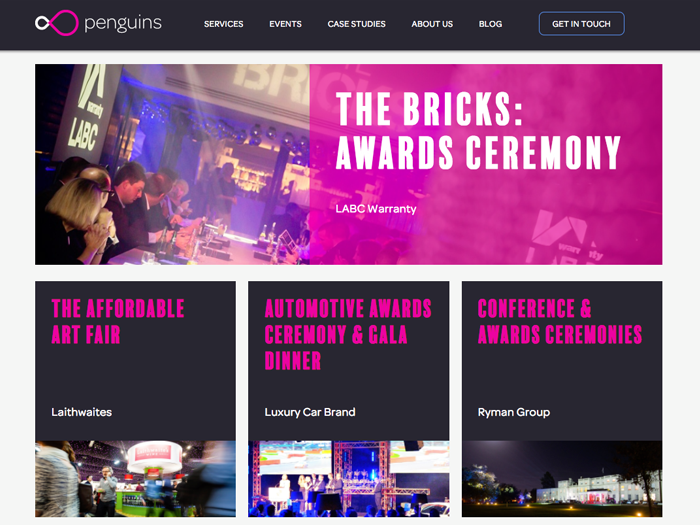 A crucial success factor in B2B inbound marketing is enabling bottom-of-the-funnel conversions. Ensuring that prospects do not have to leave they page they are on to contact you reduces friction significantly and increases the likelihood that visitors will get in touch with their questions.
Penguins and Blend achieved this will a pop-up enquiry form, available on every page - a simple yet effective conversion optimisation tactic.
Since Penguins is renowned in its space, it receives a lot of speculative enquiries from potential suppliers and hopeful job applicants. To help manage this, and highlight the real opportunities, we created workflows, driven by custom contact properties, which route submissions from genuine prospects, candidates and suppliers to the right people internally, allowing each to be processed properly and responded to quickly.
The Results
The effects of the new website on online lead generation were instant and impressive.
Even while search engine rankings and organic traffic went through the adjustments that are normal when launching a new website, the conversion rate from visitors to leads went through the roof.
Within three months, the website conversion rate had risen by more than 500% from a previous high of 0.42% to a whopping 2.42%.

The conversion rate of organic traffic is even higher at 3.22%. But most impressive of all is the impact on valuable opportunities, up by over 800% when compared year-on-year.
The impact of this increase is dozens of contacts each month now acting on their interest, reaching out and starting a conversion with Penguins. This has already generated a number of sizeable opportunities with several household brands.

Next Steps
Penguins is committed to an inbound marketing approach and will be working with Blend on aspects of its content creation and promotion.
Sustained blogging will help to extend the reach of the website, which we know converts well, bringing in more visitors and potential customers.
eBooks and other downloadable content are also planned to engage and convert those visitors who are earlier in their decision-making process or not yet ready to buy, creating the opportunity to nurture them over time.