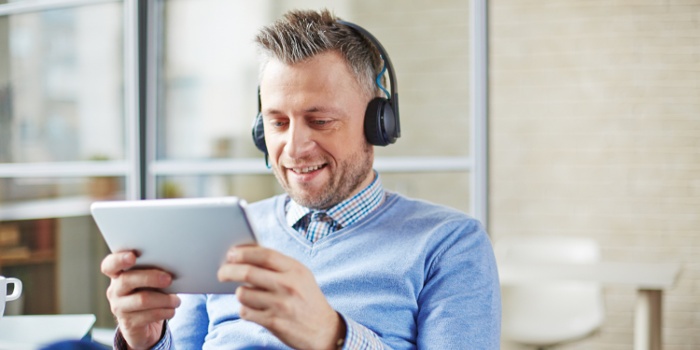 Every marketer knows the importance of relevant and engaging content for improving B2B lead generation – but it can be tricky with video.
Videos are 12 times more likely to be watched than text is to be read, yet plenty of companies are afraid of committing to video content.
To understand how to integrate video into your inbound marketing strategy, you must first identify those videos that suit each lead funnel stage. Written content can take many forms that each serve a purpose – blog posts, whitepapers, ebooks, checklists etc. And just like your written content offers, your videos must suit a specific goal.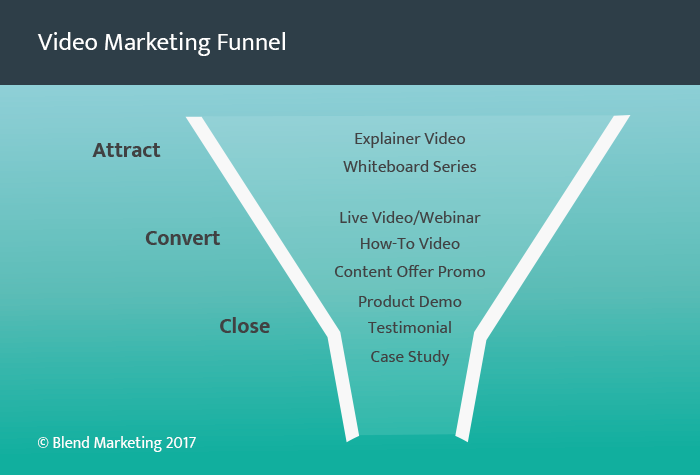 Videos that attract visitors
Explainer videos
At the top-of-the-funnel (TOFU), an explainer video can be extremely effective at attracting visitors and clarifying your product or service. Such videos are not solely about brand awareness but must engage your buyer persona and answer their questions. Even the most eye-catching animated video would be ineffective if it was not identifying and responding to the primary pain-point your visitors have, since it won't be watched.
Just like with blog content, keyword and topic research is important in identifying the trends that captivate your audience, and choosing your video subject.
The video should be brief and satisfy the B2B researcher's questions, leading them to continue interacting with your other content.
Examples
In the past year, artificial intelligence and machine learning has become a hot topic in B2B marketing. HubSpot chose it as a topic for an explainer video in January and six months later announced their acquisition of AI and Machine Learning startup Kemvi:
Unroll.Me's tool for clearing up your inbox has a very clear painpoint for prospective customers - individuals swamped with subscription emails. The first half of the video below emphasises this painpoint and the second half demonstrates how Unroll.Me provides a solution:
Whiteboard Videos
An extension of the typical explainer are whiteboard videos. A great example of these are the Whiteboard Friday video series by Rand Fishkin and the team at Moz. Moz creates some of the best SEO tools, and their video marketing strategy is to create an extremely comprehensive SEO education program. Similar strategies are employed by HubSpot's Academy series or Vidyard's Chalk Talk but Moz have been posting their whiteboard series every Friday for almost a decade:
Videos that convert leads
Webinars
Just like an ebook or comprehensive checklist, a video can be a rich resource of expert opinion, valuable insights and concise data. Regardless of your audience size, you can start exploring live video through webinars. Webinars are a great way to convert leads, because they align your team with reputable guest speakers and can cover broad topics in great depth. The episodic nature of webinars (and podcasts) encourages your visitors and leads to return to you for valuable insight. Live video like webinars can be built up over time into a library of informative audiovisual content, repurposed through on-demand availability.
How-To Videos
A how-to video, providing clear instruction on overcoming a specific challenge would be particularly effective at conversion. The video itself can be locked behind a landing page, and lead generation forms can be used inside the video via new lead generation video platforms, like Wistia. With this feature, the video still encourages conversion when embedded within a blog post or shared on social media.
Content Promo
If you create a lot of non-video content offers, a promo video on the landing page can also be extremely effective. If the video demonstrates the visitor's pain point or breaks down the points covered in the content, it creates a sense of urgency.
Product Demo
Another great type of video for conversion is a product demo. Most of the time, your product speaks for itself and showing how it resolve the audience's issues is extremely effective. It is best to accompany product demos with a product tip sheet that goes into specific use cases and simplifies use of your software. After seeing the product in action and recognising how it can resolve their issues, leads are more likely to try a free trial. If you're promoting a free tool, you could even skip the product tip sheet and go straight into linking to the product at the end of the video.
This example video for Happi teaches their leads how to create a private cloud through their tool:
Videos that close customers
Live product demos are also extremely effective at helping you close engaged leads. Leads are aware that they need a solution to their problem and in the consideration stage. If your product is simpler to use and has more unique features than your competitor, a demo can prove to your lead that you are the best choice.
Testimonial and Case Study Videos
A testimonial video is really effective at reassuring your leads that you are the best choice. At this stage, sending an email with a video thumbnail that links to a video case study effectively showcases businesses affected by your digital product/service. The video also demonstrates your company's value through genuine examples. Your brand advocates are the best form of advertising for your brand, and, in the final decision-making phase, seeing a positive personal story will make a strong case for why you should be chosen over another product.
Examples
Below is a case study video of the events management company, Penguins, and how the inbound-ready website we built them has accelerated online lead generation:
Testimonial videos are not only beneficial in promoting services, such as an agency, but also promoting products such as HubSpot. In 2015, HubSpot featured us in a partner case study:
Video content is extremely flexible and can be relevant to customers at every stage of the decision-making process, whether it is frequent, short engaging audio-visual content shared across your social platforms, interactive videos that encourages conversion or a case study that shows your business is genuine and trustworthy. When executed with purpose, video is one of the most powerful tools at converting B2B leads.