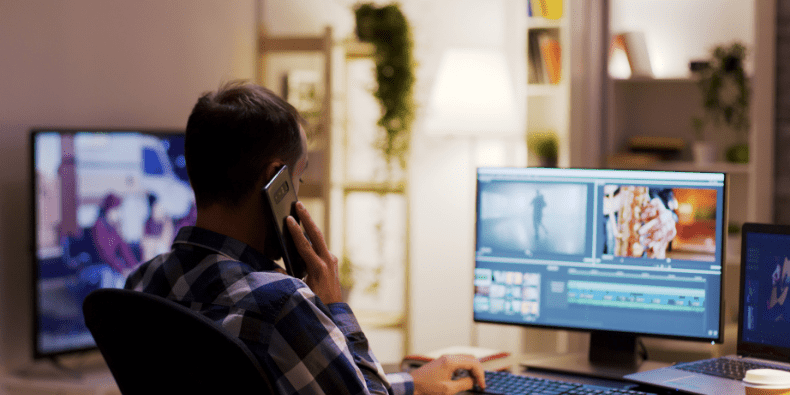 Content marketing is an affordable, long-term, and customer-focused tactic for generating traffic and leads. It's key to successful B2B inbound marketing at a time when communication is a cacophony, not a conversation.
Back in the 70s, it was reported that the average person saw between 500 to 1,600 ads per day. Fast forward to 2021, and although there are no official figures, the average person is now estimated to encounter between 6,000 to 10,000 ads every single day. So it's no surprise that 11% of the world's internet-connected population runs adblocking software.
With more ways to communicate than ever, consumers have become hyperaware of ads and sales pitches and they don't like it. So, before you win their money, you now need to win your customer's heart. And this is why content marketing is important.
When done well, content marketing provides a range of benefits that come together to make an environment that's fertile for sales.
Why content marketing is important in B2B
It builds trust better than interruption tactics (e.g. ads)
Content helps websites rank highly in search results
It reduces the cost per lead

It creates versatile collateral that can be used across all channels
Content marketing must connect to the core business purpose – to serve customers and to have an impact on the bottom line.
Someone is responsible for bringing your offering into their company
Content marketing builds trust when it's done well and for the right reasons. B2B customers need to trust that the offering they're getting is going to work and reflects well on the person bringing it into the company. Success in operational KPIs is owned in part by the brave soul who found a new solution.
This is why people say B2B and B2C marketing are broadly the same. You're not just talking about business; you're talking about someone's personal desires and challenges. Content marketing allows you to present case studies of your work, thought leadership in your industry, and insights that give a person, rather than a business, the confidence to buy into your offering.
Appealing to and empathising with your audience's challenges needs more than a product demo or a catalogue. Content marketing allows you to step back from the nuts and bolts of your offering and explore the vision and the drivers that sit behind what you do. And that's what people buy into.
Other forms of marketing lack the breathing room content marketing has to show, rather than tell, customers how good you really are.
Content that builds trust
Case studies

Blogs

Customer testimonials

Thought leadership whitepapers

Collaborations with other trusted names

Webinars and podcasts
Content marketing allows B2B companies to show they care about the same things as their customers. Building a relationship is important in B2B because you're rarely selling at volume in the way B2C companies can. Most B2B companies are niche, rather than mass market, so while the customers are fewer, the value per customer is much higher.
According to an IBM Digital Experience Survey, 56% of marketers believe that personalised content promotes higher engagement rates. The more you can do to engage and build a relationship with your audience, the easier it is to secure sales that become partnerships, upsell opportunities, and more.
We play in the Google sandpit
In our experience, B2B companies with "traditional" customer bases consider inbound opportunities to either not exist or not be worth pursuing. In some very narrow cases, this may be true. But for the majority of B2B companies, customers are using the web, rather than the old boys' network to look for solutions. And as the next generation of managers come up to replace the current one, this only becomes truer.
Content marketing allows you to optimise your website content to capture new customers. One of the benefits of Google's ubiquity in the search space is that it's easier than ever to understand the rules in search engine optimisation.
By creating content that people engage with, that's keyword targeted and well linked, you're indicating relevance and quality to Google, resulting in your content ranking higher and attracting more visitors.
Again, content marketing gives you the breathing room to target very specific or very broad search intentions without diluting your message or having to rewrite your website for every campaign. Blogs, webinars, pillar pages, and downloadables can all be used to support wider SEO goals and push your product or service pages to the first page of Google for even the most competitive terms.
And unlike PPC, SEO gains via content continue to drive results long after the work is done.
Content marketing is affordable, cost-effective, and supports long-term growth
Quality content supplemented with a good SEO strategy creates long-lasting results that compound over time. Once created, content has almost unlimited potential to drive earned, organic traffic to your site, without competing over the top spots for ads.
So while the upfront cost of content marketing might seem high, in the long term, when compared to paid advertisements, video marketing, and traditional marketing, content marketing is considered to be one of the most cost-effective tactics.
Each piece of content you create can be recycled, updated, and repurposed for a fraction of the price it took to make. So unlike other marketing tactics, the more you use your content, the cheaper it becomes in the long run.
Content marketing, if done well, is an asset-focused investment that provides value over time.
When we think about ROI in content marketing, things get muddy. All too often, marketers try to amalgamate content's financial and strategic value into one metric: campaign ROI — Content is created to support a campaign and the value of that content is measured by that campaign's success.
A whitepaper that supports a campaign offers financial value attached to that campaign. But when it moves into your resource library as a downloadable asset, it offers strategic value. So when you're measuring your content marketing, make sure you know what challenge you're trying to solve.
Once created, you can use your content assets in a variety of ways across all sorts of platforms. You can optimise a video for LinkedIn as well as your website, turn the transcript into a blog and so on.
Content marketing works
Content marketing is buyer-centric, compounding, measurable, and scalable. It consistently performs more reliably than almost any other tactic, which makes it one of the best foundations to build marketing success. From blog posts to podcasts and everything in between, unique, consistent, and valuable content is the best way to connect with your audience on the most effective level.