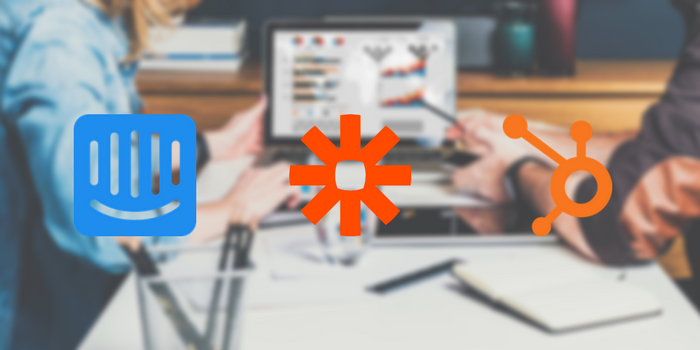 Intercom is one of the leading tools for SaaS vendors looking to engage, on-board and educate their users.
Its simplicity of deployment, extendibility and powerful messaging features have helped it to gain rapid traction.
Intercom takes care of a wide range of visitor and user communications, but for some things, a separate marketing automation system or CRM is better suited.
It is for this reason that many Intercom users are interested in integrating it with HubSpot's sales and marketing platforms - aiming to create a single view of the customer and align sales and marketing more effectively.
Zapier is one of the most inexpensive ways to connect the two systems - doing so is possible even on their free tier, until you exceed the 5 zaps that this includes.
Integrating the two systems with Zapier has its limitations - data does not necessarily travel in both direction nor is it kept in sync - but it is more than enough to enjoy the fundamental strengths of both systems together.
If you are looking to integrate Intercom and HubSpot with Zapier, here's a few pointers to get you started.
Creating Intercom users in HubSpot
Whether you are using the HubSpot CRM, the marketing platform, or both, the first step in integrating them with Intercom is creating new Intercom users in HubSpot with a Zapier Zap.
Every zap consists of a trigger and actions.
Zap step 1 - Trigger
Create a new Zap and select Intercom as the Trigger app. Select 'New User' as the trigger and then select or connect your Intercom account.
Zapier will test the connection and if everything is hunky dory you'll be moved along to the create action step.
Zap step 2 - Actions
The main action we are going to create will be the 'Create a New Contact in HubSpot' action.
Before we do that, however, check the format of the user's name in Intercom.
HubSpot requires separate first name and last name (very useful for automated marketing), but Intercom typically stores the user's full name as a single property.
If this is the case, we need an action to modify that first (skip this step if first name and user name are already separate in your system):
After the Trigger in your zap, add an action and select Zapier's Formatter action, then:
In the Formatter settings choose 'Text' as the action and then 'Split Text' as the transform
In the Input field click the Insert a Field button and choose the Intercom New User 'Name' field
In the Separator field, enter '[:space:] to split the name field where a space appears

In the Segment Index field choose 'First' from the options to output the first segment of the split text - this will become your contact's First Name
Continue, test and complete the Formatter action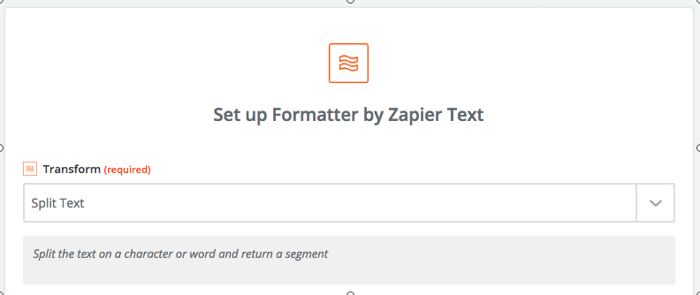 Create another Formatter action with the same settings as above except for the Segment Index field.
In this action, set the Segment Index to 'Last' to out put the final segment of the split text - this will become your contact's Last Name.
Now it's time to create the contact in HubSpot.
Add an action step to your zap and choose HubSpot as the app.
There are two HubSpot apps in Zapier; HubSpot (the marketing product) and HubSpot CRM (self explanatory), choose the one that makes the most sense to you, then:
Choose the create or update a contact action and then select your HubSpot account

In the next step, you can populate many of the contact's properties with dynamic content from Intercom or with values of your choosing

When you get to the First Name and Last Name properties click the Insert a Field button to expand the available options
The two Text Formatter actions you set up previously will be available as sources. Clicking these will give you access to the First and Last text segments, which you can map to First Name and Last Name respectively.

Other useful properties to set during this step include company name, job title or persona, assigning a HubSpot Owner (sales owner) or updating lifecycle stage, to name but a few.
If you have created custom Intercom attributes that you want to map across to HubSpot during this step you will need to go and create matching properties in HubSpot before completing this step.
Test and complete your action step and your zap is ready to be turned on.
Now, whenever a new user is created in Intercom, they will also be created in HubSpot. Zapier's Intercom trigger is instant, so you don't need to wait as would for other apps, the contact will be available in HubSpot almost immediately.
Note: As you may have spotted, this integration is a one time action. The new user on your Intercom platform is created in HubSpot, but is not kept up to date after that. If data changes in Intercom, it will not update the HubSpot record.
Note: Creating an Intercom user in HubSpot does not match the contact with their HubSpot tracking cookie, meaning their historic browsing data will not show. The contact will have an Original Source of offline sources and, until the submit a form or click a marketing email, page views etc. will not show in their timeline. If you want this information to show for all your Intercom users you would need to create them in HubSpot using the API instead.
Creating deals
If each new user reflects an opportunity that you want to track in a pipeline, then creating a deal is a logical next step.
When using Zapier's 'Create a Deal' action you are able to specify the pipeline, deal stage, deal name, amount, close date and more.
If you need to set the associated contact and/or company when creating the deal you need to user Zapier's search function to find the contact and company before completing the create deal, making things a little more complicated.
When taking this approach, clicking the 'Add a Search Step' button in the create deal action will start a automated walkthrough that will help you create your search steps.
If a new deal should only be created the first time a contact from an account/company is created you can use the 'Find a Deal' action instead.
Find a Deal looks for an existing deal using the deal name you specify - this information needs to be available in the Intercom contact record to search on, so company name would be an ideal deal name in this scenario.
If a deal is found, the search action completes and you can end the zap. If no deal is found, the search action includes the option to create one.
Other possible actions
While creating contacts and deals are, probably, the most valuable actions you can perform via Zapier, it is also possible to add contacts to workflows and lists, create or update companies, post social media messages and create CRM tasks.