Powerful B2B website design lays the foundation for a seamless and effective customer experience. If your site is poorly designed, hard to navigate, or counter-intuitive to use, then it can limit engagement with your company.
Nailing web design isn't easy though. So, let's look at five B2B businesses we think got it right in 2019 – as chosen by our senior designers Alex Bennett and Clare Chan.
1: Howamigoing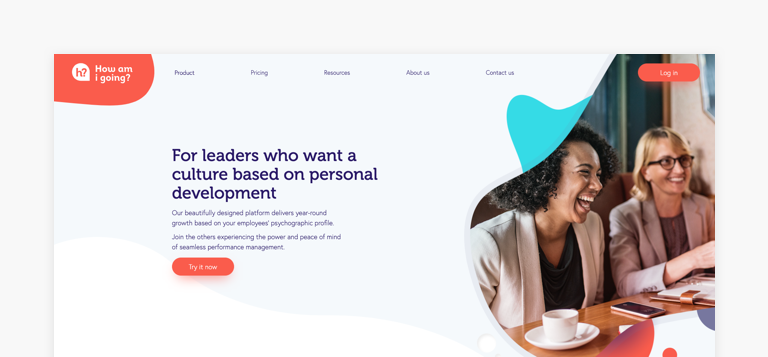 Let's kick things off with personal development software provider Howamigoing. The website combines illustrations and graphics with real-world photography, an often under-utilised approach to website presentation – and it works.
The homepage uses simple slider buttons for easy navigation and bold typography to draw attention to key areas of copy. It also features many different calls to action (CTA) and conversion opportunities on the homepage, with a CTA after each segment of copy.
There's also a nice, liberal use of focal colours that highlight important areas of the homepage while maintaining a consistent branded look. This colour scheme stretches to the navigation and the CTA buttons, giving the whole website a strong sense of brand identity.
2: Shepper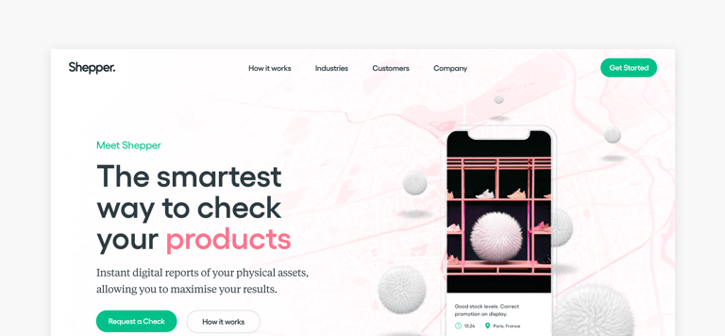 Shepper, a company that develops asset checking and data collection software, has a clean and professional website that makes great use of a bright colour palette. This supports the overarching brand and makes it easier to navigate different areas of the website.
Across the site, there are also subtle animations and hover states in some of the interactive elements. This helps make the site engaging without being overly distracting and works well alongside subtle drop shadows.
The font pairing is excellent – sans-serif for headings and serif for the paragraph text. It strikes the right balance of modern and traditional typography while ensuring high readability.
There's one last little touch we love about Shepper's site - their furry little mascot, which shows up on nearly every page. It's super cute.
3: The Assemblage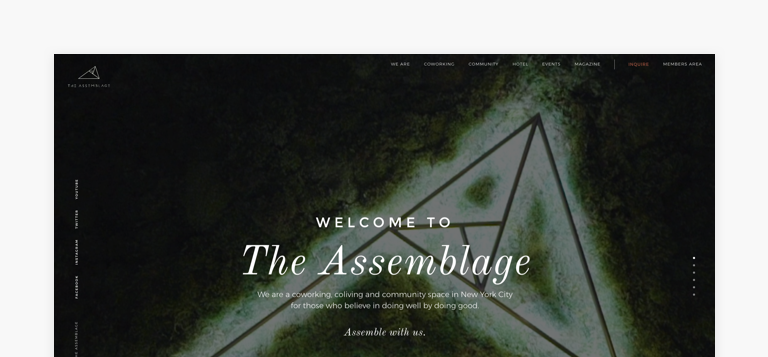 While not exclusively B2B, co-working community The Assemblage made the list because of its intricate, stylistic design choices, dynamic scrolling, and slick particle and transition animations. The different website components complement each other perfectly across the whole site, while staying true to their geometric logo and branding.
The copy is short, snappy, and to-the-point. Clear, bright imagery sits against a white background with the bold, easy-to-read text. The prominent video hero does a fantastic job of highlighting the businesses location, set against a magical New York backdrop. And while the navigation is barebones, there's enough detail on each page for this to not be a major issue.
There's lots of intricate development incorporated into the navigation and design under the hood, which must have made the website harder to develop – but makes the payoff that much more impressive.
The one caveat to all this animated goodness is that the site experiences slowdown and lag during some of its livelier moments. Plus, the homepage doesn't load as fast as it could, which is unsurprising considering the amount of content and animations that are present. Overall, The Assemblage displays a wealth of impressive design techniques and next-level presentation which makes it one of the best B2B website designs of 2019.
4: Kwara
Kwara is a Nairobi and Berlin-based start-up offering cooperative financial institutions a digital platform. Its site is full of illustrations that do a great job of contextualising the company's African roots, while also lending a strong sense of personality to the overall design.
This is supported by clean, user-friendly typography and layout – with a slightly muted colour scheme that gives the site a softer look that's easy on the eye.
Although the site is a little barebones at present, the subtle animations and clear CTAs make this a great foundation to build on – and we can't wait to see more from them in the future.
5: Olumo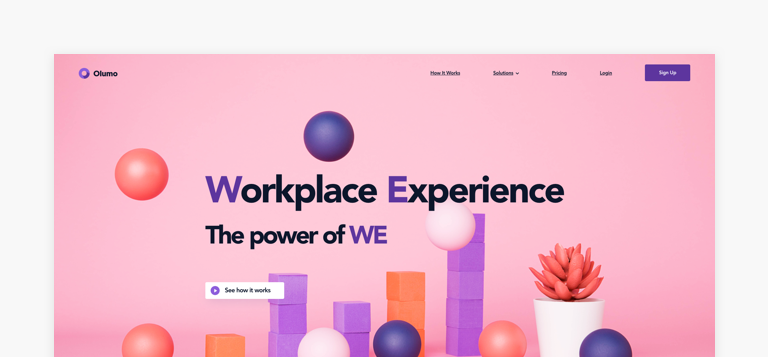 Olumo, the creator of a workplace survey management platform, has integrated the complete user journey into its homepage. From visual demos to testimonials and ways to get started, it's designed to give visitors everything they need to know in one place.
There's strong branding across the site, with unconventional colours that make it stand out from the crowd. It all works to make the content on the site more engaging. In fact, Olumo's use of abstract shapes, minimalistic imagery, and animation style make it more akin to a modern art display than your traditional sales-y website – which is a big compliment.
However, it's not immediately clear what the company actually does and the ambiguous copy does little to remedy the situation. Still, the bold design deserves high praise and its outside-the-box approach makes the brand unique amongst its competitors.
What design works best for your website?
Every business is unique. So every website will need a unique design to boot. Website design is an essential part of driving traffic and generating good quality leads for your business. With the right skills and expertise, you can make yours into something special. Who knows – maybe you'll end up on our best B2B website design list for next year.